Annual leave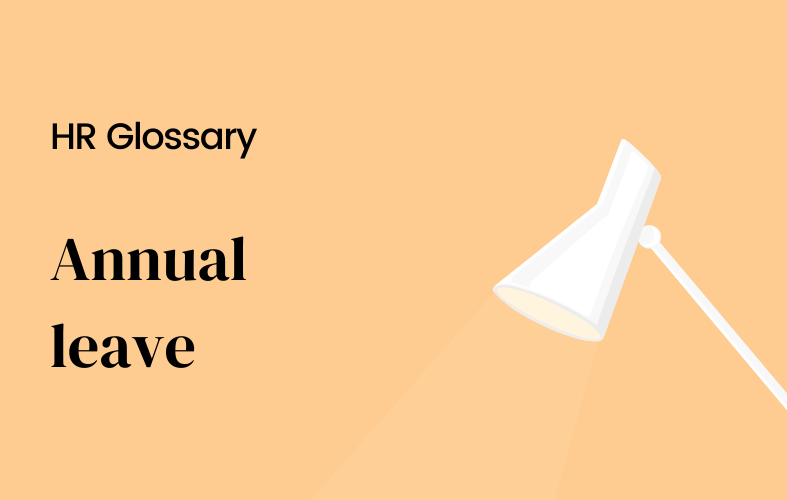 [Sommaire]
What is annual leave?
Annual leave (sometimes referred to as holiday) is paid vacation for employees to use however they wish and is part of an employee's employment contract. The amount of annual leave an employee gets may or may not include public holidays and should be stated in their employment contract.
The legal minimum annual leave entitlement varies between countries. Employees in the US are not entitled to any paid annual leave, while Iranian employees enjoy 53 days off a year, including public holidays. However, paid annual leave is typically between two and four weeks a year.
When should annual leave be taken?
Employees should take leave during the annual holiday period. For example, if an employee has accrued annual leave as four weeks leave, it must be taken over four weeks. Letting employe accrue annual leave can cause problems for business owners as employees cannot cover unexpected absences due to illness or yearly vacation clashing with a busy period. Employees may also find themselves in a difficult situation if they have accrued annual leave but no time to take it. The personnel management of the company should then take care of those situation to granted annual leave equally to everyone and maybe put in place a lump sum payment for absences in order to avoid them.
Employees who wish to take leave should also discuss this with their employer to ensure the yearly break is booked and does not clash with other plans such as other holidays or business trips. Employers may require annual leave to be approved before it is taken, particularly where employees seek annual leave at very short notice. If annual leave is unreasonably refused, an employee may have a claim for constructive dismissal among those annual leave.
Employees should also check leave rights with their employment contracts. Some employment contracts limit annual leave to specific periods, such as the first six months of employment or pro-rata yearly annual leave if they leave the company before taking all their annual leave entitlement.
Employees are advised to avoid leave clashing with other annual holidays, particularly if in a business where leave is limited in the run-up to Christmas.
Who decides how much annual leave employees get?
As an employee, you are entitled to leaves, but this amount varies on the terms of your contract. Employers are not obliged to give more leaves than the regulation of their country, but they cannot provide less than the regulation. If an employer wants to change their annual holidays policy, they must give their employees written notice. Sometimes, the regulation can differ for federal employees temporary employees.
How annual holidays is taken can depend on your employment contract or employee handbook.
Some employees may be required to take holidays as it accrues, while others might be allowed annual leave in advance. Be careful, some organization may may not allow employees to accrue annual leave.
Although annual holidays is usually dealt with within a set period such as one month, leave entitlement can depend on the terms of employment. For example, some contracts will allow holidays during the first few months, varying from pro-rata yearly vacation to a few days leave or to the number of hours of extra-work.
Some employers may wish to restrict leaves around the holiday season, such as only allowing them between 1 st November and 31 January, so employees don't take it all at once.
How long should annual leave be?
Annual leave varies between countries and can depend on the terms of the employment contract. If an employee must take leaves as it accrues, the leave will usually be dealt with using a set period such as one month. However, holidays entitlement can vary between absences and leaves organized in advance.
If an employer doesn't state leaves dates or the period they should be used in the leave policy, unused annual leave should be used in the year it is due eg, when leave was accrued. An employer can ask their employee not to take unused annual leave in this instance but only if they feel leaves would be detrimental to their business or if annual leave conflicts with an urgent situation at work.
After few years of service, the regulations of some countries offer more to employees. The number of years of service required to increase the quota of employee holidays allocations depends according to the country's regulation and the number of years of service of the employee within the company.
Some employees will ask for a voluntary early retirement. In order to establish retirement eligibility, a special interview such an appointment should be heled between the senior executive service, the HR department and the employee to decide wether it is a possible option or not.
When is annual leave due?
The amount of holidays employees get varies from one employer to another, and there might be restrictions on when leave can be taken depending on the company's annual calendar, for example, if a company's annual leave year starts on 1st January and employees only get to take annual leave during Christmas, their leave entitlement might be restricted.
If annual holidays isn't dealt with within a set period, annual leave should be taken in the year it is due eg, when annual holidays was accrued.
If a leave request is unreasonably refused, an employee may have a claim for constructive dismissal.
Can annual leave be claimed?
It's up to employers to decide how leave entitlement should be claimed and whether annual leave can only be taken at certain times of the year. However, employees are advised to avoid leave clashing with other annual holidays, particularly if in a business where leave is limited.
Full time employees and part time employees annual entitlement doesn't have to be paid to them during the annual holiday period, but they will usually receive their full salary as if they have worked. In some companies and according to the regulation, for some kind of absences such as sick leave, the employee will benefits of a lump sum payment.
It's advisable that holidays claims are dealt with quickly, as they can be complicated and require a lot of paperwork. It's best to deal with time-off claims as soon as possible or by the end of leave entitlement unless yearly leave is due.
Each country and employer decides holiday entitlement, but they should be dealt with in a set period such as one month, if not, an employee can take time-off during the next available holiday period.
Why is annual leave important?
Annual leave is essential to an organization because it has been proven that taking time away from work for rest can boost employees' productivity, reduce absence rates and improve employee mental health. The annual entitlement means that employees can take a break from the stresses of work and recharge their batteries.
Employees should be given leaves as they will contribute to organization productivity, but annual entitlement varies between absences such as annual and sick leave and annual leave in advance such as biweekly pay period, etc. Such leave, for some of them will be will be an agreement between the employee and the employer.
Here are some of the main ways annual leave can benefit your employees:
Annual leave helps reduce employee stress levels. This in turn, can reduce the chances of anxiety and depression and improve your employees' moods. It also can improve workplace relationships.
A person with a rested body and mind has better immunity. This can reduce workplace absence figures over the long term.
Annual time-off can boost employee productivity and performance at work by giving them time to recharge their batteries after a hard year of work.
Employee annual time-off can improve company morale and boost networking within an organization, leading to increased collaboration amongst employees and improved business.
Organizations that have dedicated departments and annual holiday managers report annual report that leaves increases an organization's productivity and reduces sickness levels, leading to lower absence figures
Research has found that leaves can make people feel more creative and inspired at work after a break away from the office.
Annual leave can benefit an organization too. Here's how:
Time in a different environment can increase creativity at work. This could help your employees find novel ways of approaching a problem and give you a competitive advantage.
The amount of annual time-off can be a competitive advantage. By giving your employees a good level of annual holidays, you will increase retention and reduce costly staff turnover.
Some employers see employee holidays as a valuable tool that some organizations give their employees an unlimited allowance.
This helps givemore parity across the organization.
You can make time-off claims easier for everyone by using a dedicated software such as an HRIS (MintHR) . There are lots of templates to use for this which you can access online or manage time-off and absences instead of having an excel spreadsheet offline.
How annual leave works?
Holidays entitlement is different from annual leave in that yearly holiday usually refers to an annual leave taken during winter or summer yearly holidays
It's up to employers to take holidays, but most employees choose to take time-off because it gives them more choice and flexibility. They can be taken all at once or more frequently, depending on leave entitlement.
Taking time-off during winter holidays isn't usually an option because leave entitlement is often used up by then.
An employee may still be entitled to aholidays but not enough to take all annual leave at once so the they will need to be taken within next available holiday period.
Employees can carry forward leaves if they don't have enough annual leave to take during annual holiday period.
Employee time-off must be taken before leave entitlement expires or carry forward this annual leave if they don't have enough annual leave to take during annual holiday period.
It can be varied, so some employees may choose leaves more frequently than traditional summer and winter holidays.
Some of your full time employees or part time employees will ask for time-off.
How should you manage employees annual leave?
Managing your employees' time-off can be simple with the right system in place.
Agree what your employees are entitled to. This should be stated in their employment contract. Some organizations allow employees to buy or sell holidays so they can fit their job around their home-life more easily. Others give employees additional time-off for long service. It's important to record this information securely. An HRIS will allow you to store this information centrally in a way that's easily accessible for managers and employees alike.
Employees can request time-off from their managers. An email or passing comment is one way of doing this but using an HRIS will allow the holiday request to be made securely and mean that it doesn't get lost or ignored. Even more importantly, employees who work remotely and or who don't work regular hours can request holidays from any location. An HRIS will allow the manager to review leaves dates for other employees and ensure there are enough members of staff present to carry the workload.
If the manager agrees, then this should be tracked and logged. This can be added to a team calendar, spreadsheet or digital diary, but an HRIS will allow the dates to be recorded in an easily accessible location, with the remaining annual leave allowance remaining against that employee's details.