HR Software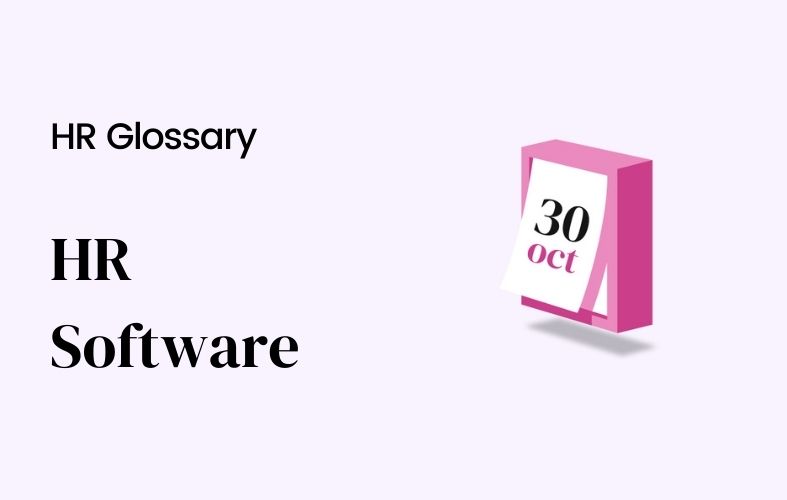 [Sommaire]
What is HR Software?
HR software is specialist software used by organizations for workforce management. It is sometimes referred to as HCM (Human Capital Management) software, HRIS (Human Resources Information System), or even HRMS (Human Resources Management System).
To help an organization manage its employees more easily, the HR software solution provides several functions, including :
Employee data storage and record-keeping
Payroll
Why should a company use HR software?
Using HR management software benefits administration in many ways. These include :
Providing a single source of data 
With all data and records stored in one location for the core HR functions, there is only one data source for everyone to access.
This means everyone can be confident that they have the most up-to-date information and prevent misunderstandings or mistakes due to incorrect data points being used.
Enables easier people analytics 
The data that is logged in human resource management software provides a powerful starting point for people analytics. This enables HR systems to review employee engagement and behavior more effectively, easily, and accurately.
Supports cost savings 
By analyzing the data within HR software, human resource departments can start to identify opportunities to save costs. Potential opportunities include benefits, reward and recognition, and recruitment and retention.
Using the data alongside employee performance interviews and surveys can give you a more complete view of opportunities.
Support learning and development 
HR software allows employees and managers to track and plan training to support career development.
The improved visibility ensures all employees are aware of the opportunities open to them. It also allows managers and HR managers to see which employees need to complete mandatory training.
Easier employee access 
Many of the best HR software applications allow employee self-service. This makes it easier for employees to access and update personal data without needing to go through HR. It also gives a sense of greater transparency, providing visibility of benefits, leave allowances, pay grades, performance, and training plans.
How do you implement HR software in a company?
Some of the key elements to consider before implementing HR software in your organization include:
1. The project set-up:
a. Who will be responsible for the project?
b. What is the timescale for implementation?
c. What is the budget for the project?
d. What are the aims and objectives of the project?
As part of this, consider your objective, scope, budget, timeline, who will be involved in the project, and who will need to sign off on the project.
2. Product selection:
a. What are your organization's specific needs?
b. What type of product will fit those needs?
c. How will you know if the product is successful?
To select the most appropriate software for your organization, consider what you need from the software and how you will measure success.
A wide range of software products is available, from single-purpose software such as payroll software to more comprehensive tools such as HRMS. Choosing the right product can take time but is essential in ensuring it delivers against your objectives.
3. Initial implementation:
a. Who will be responsible for setting up the software?
b. What training will they need?
c. How will you ensure data is accurate and up to date?
Ensure you have a dedicated team in place who are responsible for implementing the software. They will need to receive training on how to use the software and how to input data accurately.
This can be a complex process involving many iterative stages. Initial implementation typically takes the following format:
Configuration
Testing with pilot groups
Roll-out
Upload or migrate existing data
4. Post-launch training:
a. Who will need training?
b. What type of training will they need?
c. How will you ensure the training is effective?
Ensure all employees who will be using the software receive training on how to use it. The type of training will depend on the complexity of the software and the level of experience of the employees.
As soon as your new software is up and running, you will need to train users to use the software. The faster you can get employees using your new HR software; the more cost-effective your launch will be.
Some HR professionals may benefit from specific analytics training to help them make the most of the new software.
5. Test post-live performance:
a. How will you measure success?
b. What are the key performance indicators (KPIs)?
c. Who will be responsible for measuring success?
d. How often will you review performance?
To ensure your software is delivering against its objectives, establish KPIs and review performance regularly. KPIs
Once the new HR software is live and in use, you should test its ability to meet the objectives you set it.
6. Evaluation and improvement:
a. How will you know if the software is being used effectively?
b. What are the key metrics you will use to measure success?
c. How often will you review the effectiveness of the software?
Evaluate the success of the software by measuring the key performance indicators you defined at the start of the project. Review these regularly to identify any areas where improvements can be made.
Types of HR Software 
There are different types of HR software available, each with its own set of features. The type of software you choose will depend on your organization's specific needs.
The three most common types of HR software are:
1. Applicant tracking systems (ATS):
An ATS is a type of software that helps organizations manage the recruitment process, from posting job adverts to tracking applicants.
2. Payroll software:
Payroll software helps organizations manage employee pay and tax deductions.
3. HR management systems (HRMS):
An HRMS is a type of software that includes features for managing all aspects of HR, from recruitment to performance management.
To sum up
HR software can deliver many benefits to organizations, from improved data management to easier employee access and greater transparency. To ensure success, it is important to carefully consider all elements of the project before implementation, including product selection, initial set-up, and post-live performance.
When done correctly, HR software can help to streamline processes, improve data accuracy, and make it easier for managers to access the information they need. Ultimately, this can lead to time and cost savings for the organization as a whole.