HRIS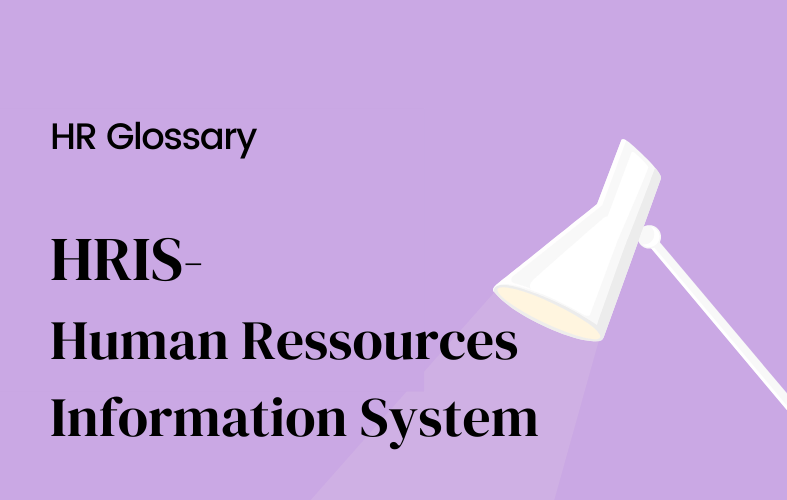 [Sommaire]
What is HRIS?
HRIS is a type of software used in the HR function. It is a system that collects and stores data about an organization's employees and is sometimes referred to as HR software. Although it can be run on an organization's own IT system, HRIS is normally cloud-based. This means that they are hosted on the internet rather than kept on an in-house server. Using cloud databases is advantageous because it makes the system more flexible and easier to install.
HRIS systems enable an organization to collect, analyze and report on data so that managers can make informed decisions. It also allows them to manage employees in the company and keep information about them in one place.
Human resources management system drives employee engagement that contains every change to employee details such as salaries, job titles, department names, and locations. This reduces the risk of errors and helps with compliance.
Human resources information systems can help with recruitment, increase employee engagement, employee retention, company culture and policies, and business success. It acts as a single source of truth for information on employees and makes this data available to managers when they need it.
What does HRIS stand for?
HRIS stands for Human Resources Information System. It supports the activities within the human resources department and provides managers with information that they need to make performance management decisions.
It also enables them to track employee engagement and performance. For example, it can be used to inform managers about their team's skills and qualifications so that they can plan training courses to improve human capital management.
What are the main features of an HRIS?
Human resources information system will store all relevant records about each employee engagement strategy so that managers can access them quickly and easily as necessary. This might include:
Name, address, and contact details.
Qualifications.
Skills.
Employee benefits and entitlements.
Training records.
Performance data, goals, targets, and training needs analysis (TNA) reports.
Recruitment information – this might include details about applicants who have applied for a position within the company as well as those that were unsuccessful.
Why should companies use an HRIS? Why is it helpful?
It gives the HR function a suite of tools to manage and analyze employees more efficiently.
Employee engagement definitions by a software make the recruitment process simpler and more cost-effective. It also enables new employees to speed more quickly on their responsibilities. HRIS can be used for several purposes, including:
Record keeping
Organizations can store all employee paperwork on these systems, making it secure and easy to access and engage employees and help HR functions to instore organizational success. For example, it can store recruitment files so that human resources professionals can find these documents when they are needed quickly.
Performance management
HRIS makes it easy for managers to track employee performance. For example, the system can be used to send regular updates about employees' progress directly to their managers.
This way, managers will have all the information they need about their team's performance reviews and engaged employees, rather than several different sources.
Organizational management
HRIS allows managers to store and track information about the company itself. For example, it can be used to record all changes to organizational structure, such as department name or location. This increases the level of control within an organization because managers will always have access to accurate information.
HRIS systems increase employee engagement for more strategic initiatives, such as succession planning and leadership development. It's possible to create an organizational chart with these systems and track employee career paths within this chart, in addition to employee engagement surveys and employee feedback.
Data analysis
From annual leave to absence management, an HRIS gives human resources insight into how employees are taking leave and allows for analysis of trends and patterns.
This data can be effective in helping give the HR function a bigger impact in the organization and improve employee engagement, especially those that are very data-centric. It can also be used to store and analyze data on employees. For example, organizational employee engagement research might unearth information about salaries or benefits that need addressing.
Measuring employee engagement by an HRIS enables managers to use this information across the whole organization and identify trends and patterns more quickly than through traditional sources such as file folders or spreadsheets.
Recruitment and onboarding
Many human resources information systems have applicant tracking functions that allow comparing candidates and easily storing details for future reference. The seamless nature of an HRIS means that should a candidate be offered a role, they can be easily added as an employee and added to the onboarding element of the software. This saves time and allows for a more streamlined approach.
Having all this information stored electronically and easily accessible will ensure employees know exactly what is expected of them. They can then plan their work accordingly and be able to identify any weaknesses in the company.
A better employee experience
Used well, an HRIS allows employees and managers to access their own records and personal information giving transparency and a sense of control. By improving employee engagement initiatives, you assure job satisfaction in your company.
Tools such as annual leave booking applications and training calendars can give both managers and engaged employees consistent and reliable visibility.
That emotional connection employees feel toward their work is vital for engagement. HRIS can be used to make employees feel a part of the company, and it means that they can get to know other employees and managers more personally.
Access from anywhere
Because many HRIS are accessed from the cloud, this means HR professionals, managers, and employees can access the software from any location. This is especially relevant for remote working employees and multi-location organizations.
What kind of companies is an HRIS suitable for?
An HRIS is suitable for any company with several employees.
Small companies will find it helpful because it allows the business owner(who is typically tasked with talent management and running the business) and direct supervisors to categorize human resources jobs. It's also a good way of starting as you mean to go on by storing employee documents online from the very beginning. This will make future HR management more accessible and make highly engaged employees.
It allows HR managers to review patterns and trends in behaviors such as absence that might otherwise not be visible.
HRIS makes managing a large organization easier and improves engagement efforts. All data is in one location, and all employees can access and use the same interface. Importantly, the HR systems will easily access records for compliance audits and any challenges.
Employee engagement surveys from this software make for more reliable results. If you have many employees, it is essential to get a representative sample from all levels and departments within the organization. An HRIS makes this process straightforward since you can access all records with one click.
What are the advantages of an HRIS?
There are many advantages of an HRIS. These include:
Easier record-keeping
The system allows employees and managers to easily access records and information, making it easier for everyone.
Highly engaged employee
Employees engaged with their work will be more productive for your company. Managing all of an employee's information in one place helps you to connect them with the proper departments and people to ensure they feel valued and satisfied by their role.
It also helps managers manage culture, training, performance expectations, and compliance.
Time saving
With staff data stored in one centralized location, HR can spend more time on talent management and less on filing or looking up old files. This is especially useful for small businesses that need to wear many hats and do not have the time to keep many files.
Reduced HR costs
The up-front cost of an HRIS is less than hiring multiple people to complete the same tasks. It also allows existing employees in human resources to work on more value-added activities, meaning they are paid for more skills and their time is used better.
Strong data security
An HRIS is an online system, so access controls can be set up and tracked. This makes it easier to monitor who has looked at what data and also harder for unauthorized people to access or alter information.
Simpler data analysis
HR professionals can use a variety of reports and tools in an HRIS to look for trends or patterns which otherwise would have been invisible. It is beneficial when analyzing the company employees, performance management, measuring the rate of engaged employees, absence rates, staff turnover, or retention rates.
Better employee experience
An HRIS allows employees and managers to access their own records and personal information giving transparency and a sense of control. Tools such as annual leave booking applications and training calendars can provide both managers and employees with consistent and reliable visibility.
People analytics
As it allows large-scale data collection and analysis, HRIS can be used to uncover new gold nuggets of information about your employees and business, which wouldn't usually be visible.
Employee engagement data collected through systems is beneficial for engagement surveys. It provides accurate data about how an employee feels working in the organization.
Promotion of company culture
An online human resource information system shows that you care about your employees and want them to stay an integral part of the company.
Communication with managers and employees on all levels becomes easy, and sharing information on company culture and events is very simple. What's more, an online HRIS makes it easier to organize team-building activities outside of office hours.
Drivers of employee engagement
It allows the employer to communicate with other employees, create a team-building culture, and ensure that their workforce is highly engaged.
Which HRIS is best for a company?
That depends on a number of factors. We recommend that organizations conduct a comprehensive assessment to identify the ideal HRIS solution. This means asking questions such as:
What size is your business?
Whether you have the staff to support the system you will be using or if it needs to grow with your organization.
Who will use it?
Which users you expect to interact with the HRIS, such as employees, managers, partners, or suppliers. Also, consider that multiple people from different locations can access some human resource systems.
Different systems are designed with different types of organizations in mind. It's important to find one that will meet your organization's needs. Is there a specific industry-specific solution you need, or is it more basic data entry required?
What budget do you have?
The price of an HRIS system will depend on how many modules and users you need and the features of each system. It is a good idea to have a consultant help with the selection process to ensure that your company gets the best value for money in terms of features and usability.
What training do you need?
Some HRIS modules require more user input than others, such as benefits management or payroll. Some systems can be run on autopilot without your input. It is crucial to figure out what level of knowledge and expertise your employees will need to use these systems effectively.