People strategy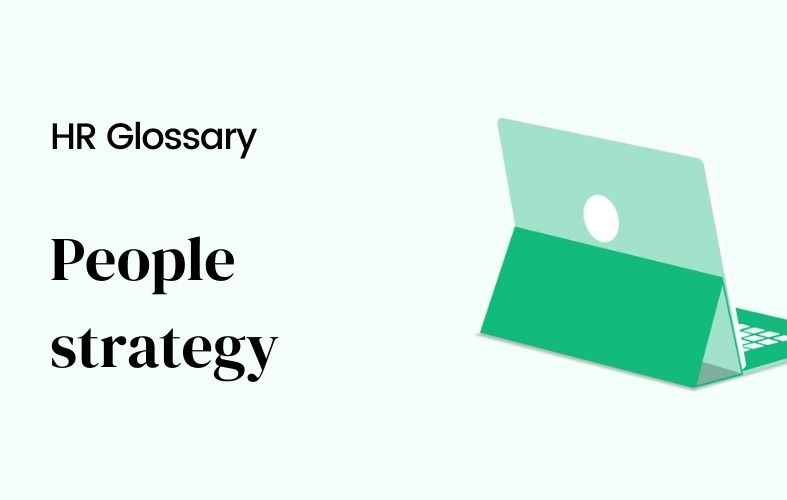 [Sommaire]
What is people strategy?
A people strategy, sometimes referred to as a people management strategy, is the approach an organization takes to build and develop its team in order to meet company goals. It is where an organization defines its ambition for its people strategies and details how this ambition will be delivered.
A people strategy feeds into other HR tasks such as workforce planning and employee development.
What is the difference between a people and HR strategy?
A people strategy focuses on the people within an organization and how they add value to the company, which is people-centric.
On the other hand, an HR strategy focuses on the systems and processes that support people management. It is a process-centric, more operational focus, and defines how HR will support the business goals.
Why is it important to have a people strategy?
A people strategy helps deliver overall company goals by ensuring the right people are in the right place and that the right resources – development, benefits, salary, tools – are available to them. It works in the same way as any other functional strategy would work.
By creating a people strategy, an organization automatically places people at the center of its operation. This drives employee engagement, supports productivity, and encourages employee retention.
Without a people strategy, a business risks poor alignment between teams, duplicating work, and emphasizing the wrong priorities. Not only will this impact productivity and the customer experience, but it also damages the employee experience , leading to poor performance, wellbeing issues, and higher employee turnover.
Empowered employees are driven employees 
A people strategy ensures that employees have the right tools and resources to do their jobs. When people are engaged and feel like they are part of something important, they are more likely to work harder and be more productive.
Engagement leads to loyalty
Happy employees are more likely to stay with an organization, reducing the cost and time associated with recruiting and training new people. According to one study, it can cost up to 6 times an employee's salary to find and train a replacement.
People strategy drives culture 
The people within an organization define its culture. A people strategy ensures that the right people are hired and developed to support the company's culture and values.
The right people in the right place 
A people strategy helps ensure that an organization has the right people, with the right skills, in the right place, at the right time. This alignment of people and roles drives productivity and helps an organization meet its goals.
People strategy attracts the best talent 
A people-centric organization is more attractive to job seekers than focusing solely on profit. By having a people strategy, an organization can attract the best talent and retain them for longer.
Good people management is good for business 
According to a study by the Institute for Employment Studies, good people management practices can improve an organization's performance by up to 15%.
How can you create a people strategy?
Building a people strategy is less daunting than it might at first appear. It is, after all, just a matter of aligning your team with what your business objectives in order to succeed. The first step is to understand what your business goals are and then match these with the right people's capabilities.
The next step is to put in place the processes and systems that will support people management, such as talent acquisition, performance management, and learning and development
Finally, it is essential to communicate your people strategies throughout the organization to know its ambitions and how they can contribute.
There is no 'right' way to create a people strategy, but the general approach should include the following elements:
1. Establish the company vision
By doing this, it is clear what the employees needs to deliver. This could be in line with the company's overall goals or specific goals in a certain area, for example, growth in new markets.
Understanding long, mid, and short-term goals provide the context under which the workforce must operate.
2. Understand people capabilities
To populate the workforce with the right people, it is important to understand what people are capable of and what they want from their job.
This can be done through people analytics, such as using data to identify employee engagement or performance trends.
3. Define people processes
Once the right people are in place, it is necessary to have the right processes in place to manage them effectively.
This includes recruitment and onboarding, performance management, talent development and exit processes, HR strategy in general.
4. Be clear on KPIs
An organization's success is ultimately measured by how well it performs against specific Key Performance Indicators (KPIs). Defining these early on will help to focus the people strategy.
The KPIs for the people strategy should be influenced by the broader company vision and set the direction for what the people strategy should achieve.
Financial objectives inform decisions such as L&D budgets, investment for star talent, and workforce productivity goals.
5. Identify gaps and solutions
With the vision in place, an organization must identify where it needs to change in order to achieve those goals. This is done by looking at the people within the company and understanding their capabilities in relation to the goals.
Once gaps are identified, solutions must be put in place in order to fill these gaps. This includes designing processes, putting in place tools, and recruiting talent.
From staffing numbers to specific skill sets, identifying gaps and establishing how these gaps will be filled is essential in people strategy.
6. Take feedback on board
The best people strategies are those which have been created in collaboration with line managers and functional heads. By using their insight and experience, the people strategy can be adapted to take into account real-life factors that may otherwise not be considered.
7. Monitor and measure
As with all strategies, a people strategy is a living document. It should be regularly reviewed to ensure it remains current in the face of a changing employment market and operating environment.
Measuring the success of the tactics used in the people strategy will identify opportunities to further improve the strategy.
Why should you care about your company's people strategy?
A people strategy is important because it provides a framework for how an organization will manage its people. It sets out the company's vision for its workforce and how this will be achieved. Without a people strategy, an organization risks making decisions in silos, leading to inconsistencies and a lack of clarity on people management.
A people strategy is also important because it can help an organization identify and fill gaps in its workforce. Finally, by taking feedback on board and monitoring and measuring the people strategy, an organization can remain effective.
Caring about your company's people strategy shows that you care about the people in your business. As the lifeblood of any organization, a skilled, healthy, and well-rewarded workforce will produce better results and cost less in the long term. A strong people strategy is an investment in the future success of your organization.
Elements of a future-proof people strategy 
In order to be future-proof, a people strategy must be adaptable and responsive to change. It should also be aligned with the company's business strategy.
The people strategy should also be built on data and insights. This will ensure that it is grounded in reality and can adapt as the business environment changes. It is also important to ensure that the people strategy is reviewed and updated on a regular basis. This will ensure that it remains relevant and responsive to changes in the business.
People strategy is important because it :
Provides a framework for people management
Helps to identify and fill gaps in the workforce
Is adaptable and responsive to change
Is aligned with the company's business strategy
Is based on data and insights
Is reviewed and updated regularly.
Finally, the people strategy must be communicated effectively to all stakeholders. This will ensure that everyone is aware of the people strategy and buy-in to its implementation.