Absence Management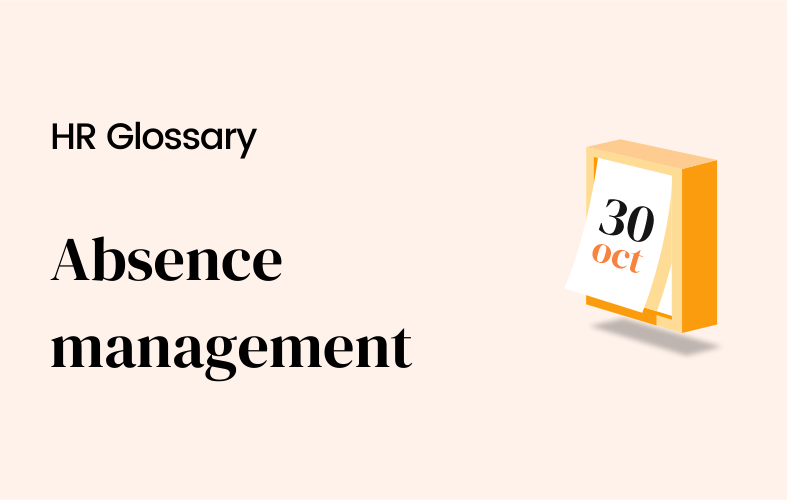 [Sommaire]
What is absence management in HR?
Absence management monitors and reduces unplanned employee absenteeism with specially designed policies and action plans. Unplanned leave is an absence that was not scheduled in advance or an absence that employers have no control over, such as being sick.
It usually represents a loss of productivity for organizations and therefore requires special attention. According to the National Opinion Research Center (NORC), American companies lost $223 billion in 2016 because of employee absence, including 762 million workdays missed due to employees being absent from work.
This leave decreases productivity and can also affect customer service and the ability to properly serve clients, which could result in potentially higher costs for businesses.
Unplanned employee leave can take several forms, including:
Short-term sick leave
Long-term sick leave for surgery, injury, or complex health issues
Lateness
Time off to care for sick children or relatives
Unauthorized leave (employee just doesn't come to work)
Leaving early or taking extended breaks.
Why employers should care about absence management?
An absence management solution is crucial because it enables organizations to successfully implement leaves policies that help manage absence and reduce its impact on productivity.
According to the 2017 Absence Management & Workplace Flexibility Survey, absence management is one of the most critical employers issues facing organizations today for several reasons:
The average leave cost per employee is $443.20 per absence day, with unplanned absence accounting for nearly two-thirds of absence costs.
More than half (53 percent) of organizations have experienced an increase in absence since 2016. Employees reported feeling better about the organization as a place to work since an absence management solution was implemented at their company.
Unplanned leaves now ranks as the number one cause of absence, with more than half (52 percent) of absence unplanned, compared to only 43 percent in 2016.
The top three reasons for absence among employees are: illness/injury (72 percent); caregiving responsibilities (12 percent); and a personal or family member's illness or injury (8 percent).
Employees report that leave management has made them feel better about their employer as a place to work. It simplify compliance and administration for everyone within the company.
Unplanned leaves costs a business in many ways:
Extra management complexity: The absent employee's work will either not be completed, or another employee will need to cover their work. This places extra pressure on the employee's manager when their time could be spent on more value-added tasks.
Reduced productivity: Output (and therefore profitability) will be lower. That might be because the role is unfilled during the absence requests or because the employee who is covering the role is covering extra work, is covering an extra shift, and so is not taking sufficient rest or is unfamiliar with the detail of the position.  
Delayed projects: Projects may be delayed or completed to a lower standard because less time has been devoted to them.
Customer experience may suffer: Either because the absent employees have been unavailable or because remaining employees have been overstretched and unable to deliver the standard of service your clients expect.
Stress caused by extra workload:  The extra workload placed on other workers can create stress and cause absence for these employees.
Track absenteeism: By implementing an absence management system, you can track absenteeism for a better compliance and start to understand patterns. With this understanding, you can start tackling the root causes of absenteeism and reduce it.
How to implement absence management in a company?
Effectively implementing leaves management in a company takes several steps :
1. Track all incidences of absenteeism:
From sickness to days off to care for dependents, ask your employees and their managers to track their leaves. It's also good practice to track planned absences such as annual leave and unpaid parental leave, as this can give you an insight into the broader picture. Using a self-service HRIS system is a good way to keep track of this data and make it easier to analyze.
2. Regularly review the data:
Once absenteeism data is being collated, start regularly reviewing the data to pick up on trends or patterns that you see developing.
3. Gather the data:
You can group data by type (such as sickness, lateness, time off to care for dependents, unauthorized leave, medical appointments and so on), department, time period, and even by individual.
4. Reduce leaves types:
With the data patterns in place, you can start to consider ways to reduce certain leaves types appearing. In addition to the hard facts, it's also important to talk to managers and staff to understand the details behind the absence figures. Unplanned leave can often indicate problems within teams, with job design, and with mental health.
5. Put policies in place:
Having developed a better understanding of the reasons for absenteeism, you can put policies in place to help reduce the incidences and in fine, improve the employee experience. Some of these could include:
Increased flexible working, including remote working to allow staff to work around unwell children or medical appointments.
Reviewing job design and team structure to reduce excessive pressure on individuals
Increased holiday allowance to ensure employees get sufficient rest and are less likely to fall sick.
Health insurance scheme to prevent minor health problems developing into long term issues.
6. Make sure schemes are clear and fair:
It is crucial to make sure absence management schemes are clear and fair, allowing time off for genuinely unwell employees while discouraging employees from taking unnecessary time off. It also provides a better compliance. By being too strict, you may risk encouraging presenteeism, which can create its own set of problems.
What is the importance of communication in managing absences ?
The absence management plan should encourage open and effective compliance and communication between managers and employees across departments. It is crucial that absence policies are clear and a system in place for resolving absence issues fairly.
Leave data must be collected, collated, and analyzed to establish patterns and trends. This can be done through a self-service HRIS system which enables you to build leaves reports to track absences across departments and divisions.
These reports can then be used in leaves reviews to highlight the need for leaves and time-off policies, procedures, and guidance. A good leave management tool will enable your employees to have a better customer experience inside your company.
With leave data presented, staff and management can work together to tackle issues such as:
The need for improved flexible working options.
The need for a review of job design and team structures to minimize the effects on mental health.
The need for improved health and well-being of employees, such as with increased holiday allowance.
Strategies for reducing the impact of employee absences on your organization's productivity :
To deal with absence issues such as absence for medical leave, you can implement leave policies, procedures, and guidance. These should be clearly communicated to managers and employees through training, handouts, intranets, manuals, etc.
They should be regularly revised to fit with legal requirements and industry best practices.
The absence management system can be used as a tool for managers to understand why absence is occurring, find solutions for issues raised, and track their progress.
Some strategies include:
Staff training on leave regulations policies such as leaves reviews, return to work interviews, and flexible working policy.
Cost-effective absence policies such as health insurance schemes.
Regular absence reviews.
Improved absence coordination and communications between managers and employees.
Reviews of job design, organizational structures, and team dynamics to ease pressure on individual workers.
Reduce risk and make overseeing employee absence as pain-free as possible 
Why an absence management plan is essential for your business, including how to develop one that works for you ?
There are many leave regulations strategies to take into account, including absence policies, procedures, and guidance. These should be formalized into an leaves management plan that is regularly reviewed to ensure that it is up to date with the latest industry standards. Human resources should also claims process for each kind of absence reason such as medical leave or disability claims for example.
An absence management plan is vital to protect your business during absences and ensure you don't fall victim to the effects of presenteeism.
To create an absence management plan that works best for your company, you'll need to consider the following:
How leaves are recorded in your organization.
The most common types of leaves among your employees.
The reasons behind absence rates and trends observed in leaves data.
The information gathered can help create absence policies and procedures, including absence reviews and flexible working options.
Through a self-service HRIS system or other absence reporting tool, leave data can be tracked and reports created to allow you to spot leaves trends and patterns. This information can then be used to increase productivity by having leaves reviews that identify issues such as the need for improved flexible working options, increased holiday allowance or improve workers compensation process.
5 best practices when designing an absenteeism policy :
Be clear and concise. Make absence policies, procedures, and guides easy to understand for managers and employees. This will help you improve the entire employee experience within your company.
Have open communication channels between staff and senior management.
Ensure absence management schemes are cost-effective. Health insurance schemes can be a cost-effective way of mitigating absence issues while increasing holiday allowance can reduce leaves rates.
Ensure absence policies, procedures, and guidance are regularly reviewed. Leaves data needs to be collected, collated, and analyzed to spot leaves trends and patterns. Regular absence reviews ensure that absence issues can be identified early on before escalating into absenteeism or presenteeism.
Ensure leave management schemes are communicated effectively. A lack of communication between staff and management can lead to leaves issues spiraling out of control, so its vital absence schemes are clearly communicated.