Remote onboarding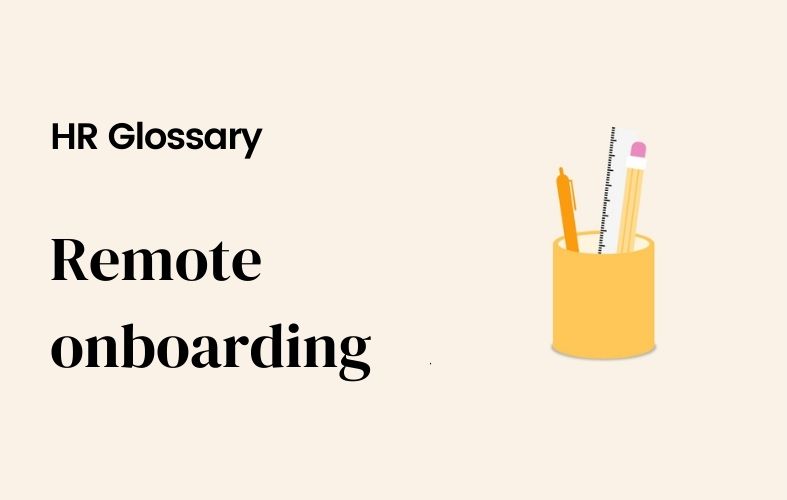 [Sommaire]
What is remote onboarding ?
A remote onboarding is a process of integrating a new employee into an organization but doing so away from the central office location.
Onboarding remote employees have always been the norm for companies with multiple locations or employees who spend much of their time 'on the road', but it has been made more necessary by the lockdowns associated with the Covid-19 pandemic.
What are the challenges of remote onboarding?
Poor onboarding can result in weaker employee retention figures. That makes it especially important to be aware of the challenges associated with the onboarding program remotely. These include:
A lack of team integration : 
When remote workers can not easily join in with team conversations or see what everyone is working on, it can be difficult for them to feel like part of the team. This can lead to social isolation and a lack of knowledge about what is going on in the company.
New employees may not feel part of the team or take longer to settle in. This can be damaging to their productivity and engagement.
Existing employees may find it difficult to get to know new employees and may inadvertently leave them out of communications and activities.
Limited social interaction :
Working remotely can also limit the amount of social interaction that employees have with one another, which can lead to a decreased feeling of connectedness. This can impact employee morale and productivity.
The lack of in-person contact can also make it difficult to build trust and relationships with remote employees. This can lead to a feeling of isolation, which is especially harmful to every remote worker who is already physically apart from the rest of the team.
Physical presence is often seen as important for building trust and relationships in the workplace. Without it, the team members may feel less connected to their colleagues.
Missed training and mentoring opportunities :
When remote employees are not able to attend training or mentoring sessions in person, they can miss out on important opportunities to learn and grow. Employees who feel that they are not learning or progressing may be less likely to stay with the company for a long period of time.
Remote employees may miss many of the informal learning opportunities that they would have if they were on-site. They may also miss out on one-on-one mentoring, which can be beneficial in the early stages of their employment.
In addition, mentors may be less available to offer support. This is an especially big problem for employees in more junior roles.
Difficulty in communicating and showing the company culture :
Company culture is often communicated through physical cues such as the layout of an office, how people dress or what they talk about. Remote employees may not get a sense of this culture and may feel disconnected from the company values and goals.
Employees who are remote may not get a sense of the company's values or the norms and culture that guide employee behavior. This can lead to misunderstandings and conflict down the line.
It is easy to show a new employee 'this is the way we do things around here' when they are in the same location as you. When working remotely, this is much more difficult. As a result, new employees may be more likely to struggle to fit in with the company culture and make cultural errors that slow down their integration.
New employees take longer to reach optimum productivity :
Integrating into a new company takes time, energy, and focus. When remote employees are unable to do this in person, it can take them longer to reach their full productivity potential.
New employees may not be able to reach their full productivity potential if they can not integrate into the company culture in a timely manner. This can lead to frustration on the part of the employee and the company.
It can take remote employees longer to feel comfortable in their new role and to start producing their best work. This can be damaging to the company as a whole. They do not get to learn from their co-workers in the same way as on-site new team members do.
What are the remote onboarding activities?
There are a number of onboarding process activities that can help to make the transition easier for remote employees.
Some of these activities include:
Setting up a remote workspace that is comfortable and conducive to productivity
Providing employees with clear guidelines and expectations for remote work
Encouraging employees to stay connected with their colleagues through video conferencing, chat programs, and other tools
Offering remote employees the opportunity to attend training and mentoring sessions online
Creating a remote employee handbook that outlines the company culture, values, and goals
Sending new employees a welcome package that includes information about the company and remote work tools and resources.
The challenges of remote onboarding process should not discourage companies from implementing remote work policies. Instead, they should be aware of these challenges and take steps to mitigate them. By doing so, companies can create a remote work policy that is beneficial for both remote and on-site employees.
How long should remote onboarding take?
There is no one-size-fits-all answer to this question, as the time required for remote onboarding will vary depending on the company, position, and employee.
However, a good rule of thumb is that remote employee onboarding should take at least as long as in-person onboarding.
Why is remote onboarding important in a company?
Remote onboarding has become especially important in companies more recently. Not just because of the impact of Covid-19 lockdowns; but also because increasing numbers of employees wish to work remotely as a way of balancing their work and domestic lives.
Virtual onboarding can become a powerful tool. That is because by defining the onboarding process more tightly and making it location-independent, it can become standardized.
This, in turn, allows all new hires the opportunity to have a high-quality onboarding experience. Without this standardization, onboarding quality can be dependent on an individual's manager.
Used well, remote onboarding can set the standard for all of an organization's integration activities. This then allows to tailor new hire onboarding to their specific working practices – on-site, remote, or hybrid work.
How to involve new employees in a remote onboarding ?
Onboarding remote employees benefit from a more structured approach. Building a formalized onboarding plan with clear milestones will help new employees know what is expected of them and what to expect from their employer.
But to involve them more fully, organizations can also:
Create a comprehensive welcome pack : 
This can include an introduction to the company, its values, and its goals. It can also introduce new employees to their remote team members and explain the tools and software they will be using.
That gives employees all the important information they need to know. Work with recent new-starters to include information that you might not otherwise have considered.
Onboard new employees in groups :
This can help remote employees feel connected to the company culture and get support from their peers. It can also provide opportunities for networking and socializing with co-workers.
This gives them a sense of connection and an internal contact point that they can reach out to.
Organize an event for them to attend :
This could be a live meeting or an online event. This can help remote employees feel more connected to the company and its culture and get to know their fellow remote workers.
Even if you are working remotely, there is still the opportunity for occasional in-person gatherings. These are essential in creating a greater sense of belonging and reinforcing the connections made during online sessions.
Hold regular check-ins :
This helps many remote workers feel like they are on track and that their progress is being monitored. It can also give them an opportunity to ask questions and raise any concerns they may have.
New employees will have lots of questions. By having an HR professional and their manager check in regularly, employees will know they are supported and learn more quickly.
Even better, give them a peer buddy to check in with them regularly. They will feel more able to ask peers questions that they wouldn't want to bother their manager or HR contact with.
Train managers to onboard remotely :
This is essential for a remote employee onboarding checklist to be successful. Managers who are remote-friendly and understand the challenges of remote working will be better placed to help new employees settle in.
They need to be aware of the different ways in which remote employees learn and be prepared to offer more support than they would traditionally give in an on-site setting.
People management is a learned skill, and remote people management is one step beyond that. Ensure managers are given appropriate training to help them support new employees.