HR Self Service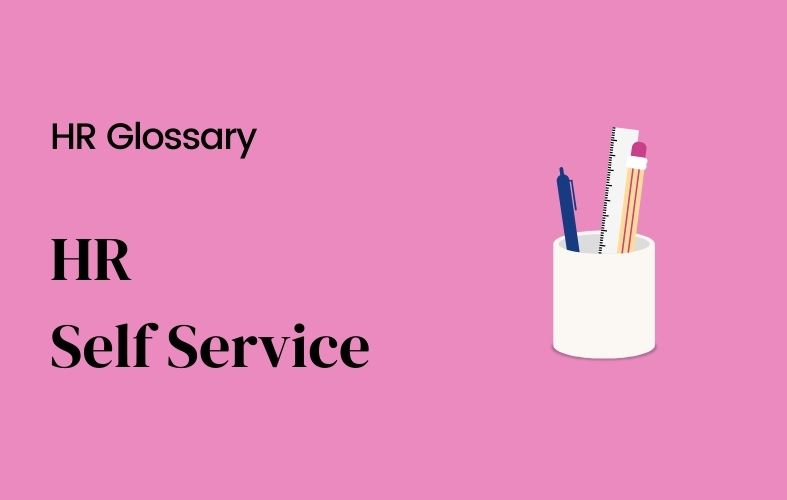 [Sommaire]
What is HR self service?
HR self service, also sometimes referred to as employee self service, is a means for employees to access HR software and data without having to use an intermediary such as an HR manager.
Normally accessed through a portal, employees can use HR self service software to access personal information such as their training records, leave allowance, absence records and benefits. HR self service also enables employees to update their personal details, view and apply for jobs, and book training courses
In addition, HR self service can help employers to manage human resources more effectively by providing a single point of access for employees to all HR-related information.
What are the common features of HR self service?
HR self service software generally offers a range of features, which can vary depending on the system. However, some of the most common features include; the ability to :
View and update personal information, including contact details, leave allowance, absence history, job history and training record.
View HR policies and procedures.
Access payslips and other HR documentation.
Book training courses.
Apply for jobs.
How can you improve HR self service in a company?
Putting an HR self service system into place is one task. Encouraging employees to use it is often another. Due to habit, misunderstanding, or even worries about using technology, uptake of HR self-service tools may be challenging.
Here are some ways to improve the uptake of HR self-service:
Change management techniques :
Use change management techniques to implement your new system. As with any transformation, asking employees to change the way they have carried out simple tasks for many years can be a hard sell if you don't approach it correctly.
Using change management techniques to embed HR self service will help employees adopt it more easily.
Provide trainings :
Provide regular and easily accessible employee and manager training. HR self service is a new way of working for many people, and some training and support is essential to ensure everyone understands how to use it.
By training employees and managers to use the system and by making training sessions available in a variety of formats, you will help reduce the barriers to learning.
Manage expectations :
HR self service should never be seen as a replacement for HR professionals. HR staff still have an important role to play in the workplace, even if employees are able to access HR information through self-service.
Make sure employees understand this and manage their expectations accordingly.
Prioritize communication :
Communicate, communicate, communicate. There's no such thing as too much communication when implementing a new process into an organization.
Lead with the benefits your employees will get from using the new system and make sure communications are clear and in a language that is familiar and easily understood by your employees.
Use communication channels effectively :
Make sure you use communication channels effectively to keep employees up-to-date with HR self service developments. Newsletters, regular updates, and interactive sessions (such as webinars) can help to keep everyone in the loop.
This system should empower employees to take control of their HR-related tasks, from updating their personal details to booking training courses.
Show a top-down uptake of the HR self-service system :
As with so many new things, showing a leadership commitment to your new HR self service system will demonstrate that the new process is here to stay.
It will also show that the use of the new system is an expectation that will quickly trickle down the organization.
Understand the challenges or concerns :
By carrying out pulse surveys and talking to employees to get their feedback, you can understand the barriers to usage. This will help you to develop strategies to overcome any challenges or concerns that employees may have.
With this knowledge in place, you can tailor your training and communication to address these issues. 
What are the benefits of a good HR self service system?
A good HR self service system does not just make life easier for the HR department or employees. It benefits the entire organization. Here's how:
Makes the HR department more efficient 
With requests and updates taken care of, your HR department can invest more time into activities that support business growth.
Employees can manage their HR-related tasks from anywhere, at any time. This means they do not have to take time off work to go to the HR department or search for HR forms online.
Improves organizational compliance 
Automated HR processes help ensure compliance with HR regulations, as well as data privacy and security. Helps with HR audits human resources self service systems store all employee HR-related data in one place. This makes it easy for HR professionals to carry out HR audits.
Saves time and money 
HR self service systems typically offer a fast, efficient, and cost-effective way of managing HR processes.
Ensure employee records are up to date
With this system, employees can update their personal details (such as their contact information) and emergency contacts, ensuring that employee records are always up to date.
Allows for better HR decision making 
HR data that is collated and analyzed from HR self service systems can help HR professionals make better decisions about the workforce.
Helps with HR communication 
It can help HR professionals communicate better with employees. Automated messages and reminders can be sent to employees about their HR-related tasks and deadlines.
Allows for tracking of employee training 
You can easily track employee training, ensuring that employees receive the required training and that it is registered in an HR system.
Eliminates paperwork
HR self service systems can help reduce or even eliminate the need for paperwork. This makes HR processes faster, simpler, and more accurate.
How does HR self service work?
Employees access HR self service through a secure website or portal. They can then manage their HR-related tasks, such as updating their personal details, booking training courses.
Easy access
Employees have everything they need at their fingertips, wherever they are. They can book training courses, update their personal information, and more, all with just a few clicks.
Manage absence data more easily
Employees and managers can say goodbye to time-consuming forms or spreadsheets. Instead, they can request and approve leave and log unplanned absences online.
This means better compliance and makes it easier to access absence data for improved employee analytics.
Centralized data storage
Instead of cumbersome filing cabinets or complex spreadsheets, everything you and your employees need is in one location, making it faster to find key information.
Seamless HR and payroll integration
Most HR self service systems are integrated with your organization's HR and payroll systems, making it simpler and faster to process HR and payroll tasks.
More secure
By having all information in one location, your employee data will be more secure and confidential information will stay private. 
Here are 5 steps that will help maximize your usage rate of HR self service:
1. Define the needs of your HR department and employees
Before selecting an HR self service system, it is important to define the needs of your HR department and employees. What tasks do they need to be able to complete online? What information do they need access to?
2. Select a HR self service system that meets your needs
Once you know what your needs are, it is time to select a HR self service system. There are many different systems on the market, so be sure to do your research and find one that meets your specific requirements.
3. Evaluate and test the HR self service system
Once you have selected a HR self service system, it is important to evaluate and test it before making a purchase. This will help ensure that the system meets your needs and expectations.
4. Implement HR self service
Once you have selected a HR self service system and trained your employees on how to use it, it is time to implement it. This will ensure that all employees have access to the system.
5. Train employees on how to use HR self service
Not everyone will be familiar with HR self service systems. It is important to provide training to employees on how to use the system so they can get the most out of it.
HR self service is a great way for employees to manage their HR-related tasks online, anytime, anywhere. By selecting the right system and providing training to employees, you can ensure that your HR department and employees are getting the most out of this innovative technology.
HR self service systems offer many benefits to both HR professionals and employees. By understanding the needs of your department and employees' needs and selecting a system that meets those needs, you can maximize the usage of human resources systems in your organization.