Talent Management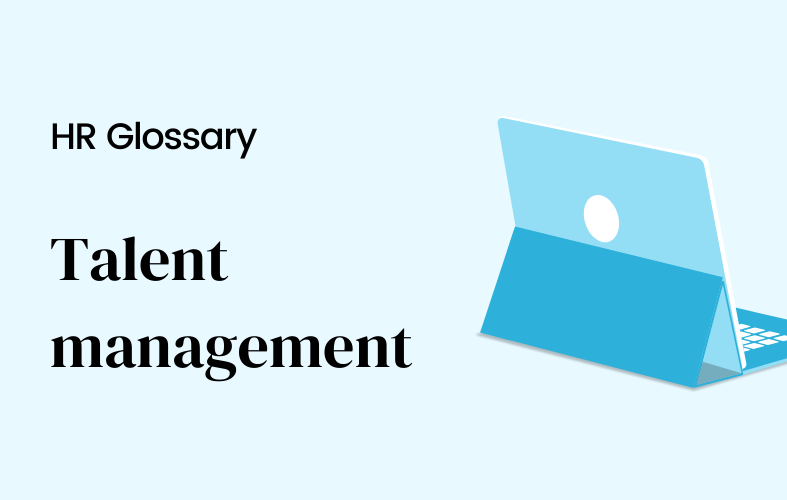 [Sommaire]
What is talent management?
Talent management is the process of attracting, retaining, engaging, developing, and motivating employees. More than simply delivering these tasks, it is doing so with the organization's objectives at the center of each activity.
"Talent" refers to highly skilled employees who are critical to an organization's success. Therefore, it relates specifically to these high potential individuals.
At its simplest, talent management is about creating an engaged and skilled workforce who will stay with your business.
What are the techniques of talent management?
Talent management strategies can use a variety of techniques which may include:
Reskilling employees 
Developing human capital management within an organization is a necessity for every firm and business strategy that wants to prevent attrition and has plans to grow.
By investing in your human resources and managing talent training, you'll be giving yourself a better chance of retaining the people who are already employed by you, as well as acquiring new talent and setting up your company culture.
Job assignment 
Employees respond positively when given challenging work that is relevant to their career interests. While you may have a vision for where your employee should be in his or her career like succession planning, you must ensure that this position is one they are interested in doing. If it's not, you will likely see decreased morale and performance.
Hiring permanent employees 
A smart way that many business owners and managers attract talent is by hiring permanent employees. Strategic talent management does not only this give you the chance to hire individual employees who can contribute to your organization's vision, but it also ensures employee retention.
Hiring contractors 
Contingent workers are often used for short-term work, to fill out specific projects. They may not stick around past the completion of that project, which can cause problems for organizations.
Redeploying employees to new departments 
Employees who are unhappy or underutilized benefit from being placed in new positions with different responsibilities by workforce planning.
Re-engaging your talent 
Companies sometimes lose talented employees because they don't feel like there is room for growth or they aren't given the ability to influence their position.
Releasing employees 
It may become necessary to remove employees from your company. This is unfortunate and should be done when appropriate and with great care for all parties involved.
Why is talent management important?
Successful talent management is so important that it can make or break an organization. Even in companies that are highly product-led, it is the actions and efforts of the workforce that determines the success of the products that are manufactured and sold. Failing to attract, retain or develop those important people in your workforce will damage your overall success.
In contrast, a talent that is recognized, supported, and developed will be more likely to work at their highest potential, stay with an organization, and wish to progress their career as well.
A talent management system is especially important when the future of work is concerned. For the long-term survival of their organizations, leaders are working hard to identify future skills gaps. McKinsey found that 87% of organizations believed they would see talent gaps in their workforce over the next five years.
What is the talent management strategy?
In an organization, employee performance is typically managed through a process known as performance management. This process aims to improve employees' skills and knowledge so that they can become more effective in their jobs.
The key aspect of talent management strategy is ensuring that employees are motivated enough to deliver their best performance. Many business leaders believe that it is about hiring the most talented people in the marketplace and then giving them the resources to succeed.
However, the aim of talent management practices should be focused on creating a workforce with productive employees who are engaged enough to give their best performance, even when they are not properly managed. In fact, research has shown that performance management is less important than the employees' actual motivation levels when it comes to job satisfaction and performance.
The next step is to set out a talent management model and implement it, which includes: defining roles and responsibilities, setting objectives and targets for employees, developing professional development strategies and career paths.
It is essential that managers fully understand the talent management strategy and also their own role in delivering these strategies to employees. It can be easy for managers to forget about their responsibilities during this process and focus on hiring the most talented people available.
How can talent management help to improve a company's global performance?
Talent management can be a valuable part of a company's global success. It can be so important that a study by McKinsey found organizations with effective programs have a better chance of improving their overall performance. By understanding the broader commercial strategy, an HR department with a strong talent management program can ensure a stream of correctly qualified and skilled employees to deliver business objectives.
Key oversight roles should ensure that their human resources management strategy is having the desired impact. This will include looking at engagement surveys, the effectiveness of recruitment, and the company's performance compared to its competitors. If there are any issues with performance against these measures, then the talent management process should be analyzed.
When considered globally, human resource management has the potential to become an even more powerful tool. With a variety of geographies, it could become difficult to directly compare employees due to differences in education standards, language, and culture. However, establishing a talent management program allows HR professionals to create a workforce that can be adapted to global business needs more efficiently. This could include methods such as:
Faster talent reallocation between geographies to support strategic focus areas. To do this, HR must understand the business's strategic needs. They must also appreciate the skills available within their global workforce. With this understanding, they can quickly move their workforce according to business priorities.
Implementing global training programs to ensure all employees work to the same values and skillsets. Global training programs are more cost-effective to implement and can become an important aspect of building skills and reinforcing organizational culture for global success.
Using best practices for global employee engagement and experience. As a global organization, HR can use their collective skill and experience to make the employee experience in their company a competitive advantage. By establishing a strong employee brand within each geography, it becomes easier to attract the best talent from each geography, which in turn ensures organizational success.
What are the long-term benefits of talent management?
Talent management can help an organization to look at employees as people who have skills, feelings, and motivations. They can bring these together to create a strong workforce that is more productive and engaged enough to make a significant impact on business performance.
Employees should be looked at as the company's most valuable asset, which makes talent management a crucial part of organizational success. An effective strategy can help improve employees' performance and motivation, which will ensure that an organization can deliver better business results.
While talent management sounds fairly straightforward, it is not as simple as hiring talented people and offering them incentives. The key aspect of talent management strategy is its ability to create a motivated workforce to succeed, even when it does not have the right process.
Talent management practices should be created with a company's commercial objectives in mind. This will help managers make the best decisions about which employees to hire and who should be given incentives for good performance. One of the best ways to achieve this is by measuring performance. It is pointless offering employees incentives when they do not meet their targets, so managers need to understand whether or not HR processes are effective and making a difference.
Once an organization has set up its hiring process and retention strategies and begun implementing them, the next step will be to seek feedback from managers about its performance.
It is important for managers to understand how it can impact their areas of responsibility and to take an active interest in their employees. It does not matter if the talent management process seems overly complex; it will be worth taking the time to make sure things are set up correctly.
A talent management strategy that encourages organizational growth ensures effective performance management and offers incentives for good performance will lead to better business results.