Talent Pool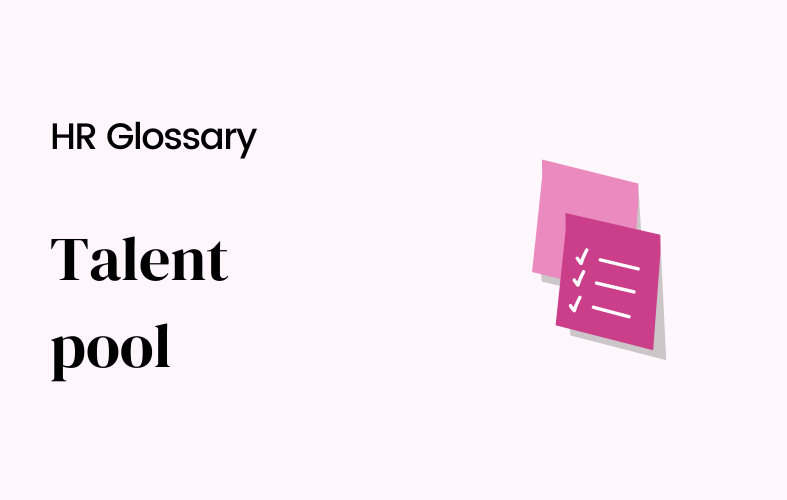 [Sommaire]
What is a talent pool?
A talent pool is a database of high-quality candidates for future and potential roles. It contains highly qualified individuals and have shown interest in working for your organization. They may have applied for roles in the past, have been referred to you by current or previous employees, may have written to you speculatively, or even have worked for you in the past.
Talent pools can be internal as well as external. An internal talent pool can contain employees whose skill and ambitions mean they are keen to take on new roles.
Unlike talent pipelines, individuals in a talent pool may not have been assessed. They have simply been identified as interested in working for your organization and have a list of attributes that make them an appealing option for future recruitment. A good talent pool will include information about each candidate, such as details : their skills, qualifications, previous roles, and areas of interest for potential job openings.
Why is talent pool significant in a company? 
Talent pools help companies make the recruiting process faster, more efficient, and cost-effective. Instead of starting the recruitment process afresh, HR professionals can reach out to a group of identified potential candidates who have already expressed interest. If the talent pool is managed well, there will be a good selection of potential candidates who can be referred to for future roles.
The talent pools helps companies recruit candidates at lower cost and with less effort than traditional recruiting methods. Therefore, it is an important tool for human resources professionals working for small businesses as they often have limited budgets and resources to dedicate to talent acquisition.
For companies without a talent pool, the hiring process may be less effective as it will require more time and resources from HR professionals. In larger businesses especially, using talent pools can often mean that there are many high-quality candidates from which to choose at any given point in time.
By building a talent pool, you avoid some of the hard work associated with recruiting. There's no need to spend money on costly advertising, no time-consuming applications to review, and no need to consult expensive recruitment consultants.
How to build a talent pool?
Building a talent pool isn't an overnight task but will help speed up your talent acquisition and improve the quality of candidates that you consider for new roles. It is essential to carry out talent mapping to identify what talent already exists in your organization. This can be done by assessing the talent database and drawing up a list of potential talent for future roles.
To carry out talent mapping, HR teams should carry out an audit of current employees across the whole company, which will highlight if there are any gaps in talent or talent shortages. This will identify whether qualified candidates needs to be acquired externally and can help produce a talent pool.
HR teams should also look at talent mapping of the external talent market. This involves looking for candidates by engaging socially, using networking sites, and attending industry events to meet with potential candidates. You can use social media networks such as LinkedIn, Facebook, and Twitter to carry out talent mapping.
You need to ensure that everyone across your organization is pulling in the talent pool in the same direction. This means managers need to be fully committed to talent mapping and talent acquisition.
The talent pool is an essential talent management strategy for any company that wants to build its talent pool fast and efficiently. It will allow companies to recruit qualified candidates at a lower cost, more quickly, and with less effort than traditional recruiting methods.
Unsuccessful candidates should obviously not be included into the talent pools of your company. HR organizational strategies are very important to target the company competencies and provide the different departments of the company with great candidates. In order to join your talent pool, for a particular role or for a senior roles, candidates must fit the company culture so building relationships with their colleagues won't be difficult for them.
What key talent mapping should include ?
Current collaborators and skills they hold
Current vacancies and how long they have been open for
Gaps in talent and where future talent requirements may be required
Once these areas of talent are mapped, HR teams can then begin to put together talent pools for future roles.
An effective talent mapping process provides candidates acquisition teams with an overview of which talent is ready for future opportunities within the business and which candidates needs to be developed to contribute to the company's growth plans fully. The talent pool helps companies recruit talent at lower cost and with less effort than traditional recruiting methods. 
In order to hire new collaborators and to create an effective talent pool of suitable candidates, nurturing talent pools regularly through your career site or by job boards on social media campaigns could be a good solution. 
Talent Pools are also called talent pipelines, talent reservoirs, talent sources/sources of talent, and talent banks.
Here are several ways to start building a talent pool :
Stay in touch with candidates who applied for roles but were unsuccessful
Known as 'silver medallists' in recruiting circles, ensuring a positive relationship with these candidates can prove fruitful. They were interested in working for your company and weren't quite right for the role they interviewed for but may be perfect for another role elsewhere in your organization.
Build talent pools from talent databases
It is possible to search through your passive candidates database to identify potential candidates for future roles using talent database software. For example, by searching for keywords such as 'developer' or 'project manager' or even skills based on the job description you are looking to.
HR Software is often used to manage talent pooling, and talent reservoirs by providing user-friendly dashboards which can help identify different talent patterns. This makes it easier for HR teams to quickly search through their talent databases, social networks, and other sources of candidates.
Stay in touch with ex-employees
By cultivating an ex-employee alumni group, you can stay in touch with talented ex-employees who may have left because they wanted to try new things or wanted a promotion. Boomerang employees are an excellent source of talent, largely because they are already proven within your company.
Leverage employee referrals
Make the most of those employees who love working for you with an incentivized referrals scheme. LinkedIn found that as many as 32% of employees would refer potential candidates in order to help their company. An incentive scheme for employees who refer candidates can go a long way to help talent acquisition.
Create talent pools for specific roles or sectors
It might be that your business is experiencing candidates shortages in some specific regions, which means that you need to find candidates quickly and efficiently. If there are several positions open within your business that are struggling to attract good candidates, you might want to consider creating talent pipeline for specific roles or sectors. By doing this, you make it easier for HR teams to identify candidates with the right skills and experience for future roles.
Build talent pools using social media
Using social media channels such as LinkedIn and Twitter, candidates acquisition teams can identify relevant candidates to their role. For example, by searching different hashtags on Twitter, building talent pools for specific roles or industry top candidates could be sourced quickly and efficiently.
Use your performance management process
Ask managers to identify employees who are ready for the next step in their career and keen to move onto the next stage of their career. By redistributing candidates across the business, you can avoid talent shortages and talent gaps.
Use your employee engagement survey
Suppose your company engages with employees via an annual engagement survey. In that case, use results from this to identify candidates that has potential or candidates that is ready for a change in career path. By using the talent mapping data from your talent pool, you can identify candidates that is a good fit for future roles.
Leverage current employees to play a bigger role in talent acquisition
By assigning current employees with responsibility for candidates attraction and retention, you reduce the time it takes to find new candidates and contribute towards building a talent pool.
Some companies are using candidates attraction reps to source talent from industry conferences. These employees are already established within the business. They have a better understanding of talent requirements for future roles, which makes it easier for them to identify candidates that would be suitable for these roles.
Integrate talent acquisition with your employer brand
Talent acquisition teams can use talent pools to highlight the benefits of working for your company with talent management. This makes it easier to attract talent that will be a good fit for your business.
By taking time to build talent pools for specific jobs, your talent acquisition team can save lots of time in the long run. Using talent mapping strategies will help you find candidates quickly and efficiently, which is essential for candidates shortages in your industry.
Take advantage of talent communities
If your company already has talent communities, for example, to support sales staff or customer service representatives, use these forums to source candidates. If you have specific candidates requirements, post a message on these talent communities asking members to reach out if they know anyone who fits the bill for future roles.
Consider existing contacts
Contacts with whom your organization already deals can prove valuable in a talent pool. From contractors and freelancers who already work with your business to clients and suppliers who you admire and who respect your business, there is a wealth of potential talent you can tap into.