PEO (Professional Employer Organization)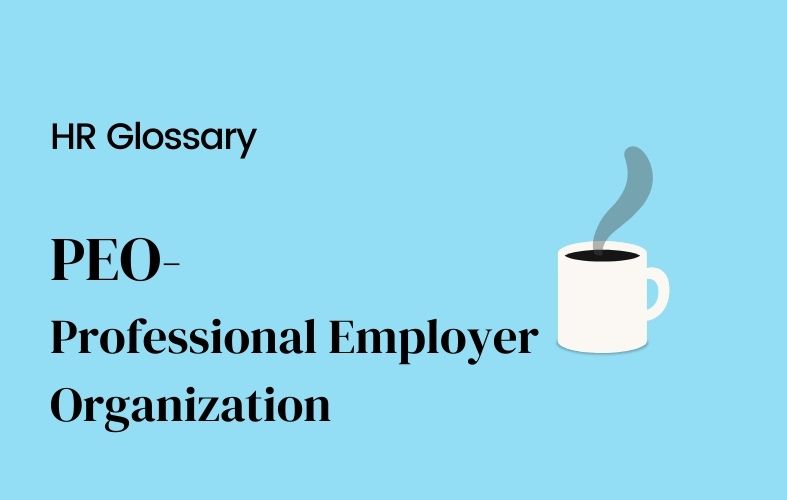 [Sommaire]
What is a PEO?
A PEO – also known as a Professional Employer Organization – is a co-employment relationship, which is an organization that takes care of your HR function, covering tasks such as payroll, benefits, and recruitment.
By working with a PEO, you "co-employ" your workers. This means that the PEO becomes the overall employer, taking control of HR and the associated liabilities.
Why having a PEO can be beneficial for a company?
Working with a PEO can help your business by taking HR tasks off your to-do list. Instead of worrying about recruitment issues or wondering how to implement a performance management cycle, the PEO will look after this for you.
This lets you get on with focusing on your core business. Using a PEO can be especially helpful for small businesses starting to experience rapid growth that needs an HR function but does not have the resources to implement an HR team.
PEOs can also help by providing your employees with better benefits than you might be able to offer on your own. This is because PEOs can pool resources from their various clients to get better deals on things like health insurance.
They are also up-to-date with the latest employment legislation, so you can be sure that you are compliant with the law.
What are the disadvantages of working with a PEO?
There can be some disadvantages related to working with a PEO. One is that you will have less control over your HR function. You may also find it difficult to terminate your contract with a PEO if you are unhappy with the service.
Another drawback is that you will be sharing your employee data with the PEO. This means that you need to be sure that you can trust the PEO to keep this information secure.
How do you can choose a PEO?
When choosing a PEO, it is important to do your research. Make sure you understand exactly what services the PEO will provide and how much they will charge. It is also a good idea to speak to other businesses that have used a PEO to get first-hand feedback on their experience.
How much does it cost to start a PEO?
PEOs typically charge a fee as a percentage of your payroll. This can range from 2-10%, depending on the size and complexity of your business. You may also be charged additional fees for specific services, such as recruitment or compliance support.
What are the tasks handled by a Professional Employer Organization (PEO)?
Professional employer organizations (PEO) can help you with the tasks you would typically assign to an HR function.
These could include:
Payroll processing and tax administration:
The PEO services can manage your payroll, including withholding payroll taxes and filing tax returns.
Employee benefits:
PEOs typically offer their clients a suite of employee benefits administration, including health insurance, retirement plans, and workers' compensation.
Employee relations:
The PEO can provide support with employee relations issues, such as dealing with discipline and grievances.
Compliance:
The PEO can help you meet your legal obligations, such as ensuring the correct visas for international employees.
Recruitment and onboarding:
The PEO services can assist with sourcing and screening job candidates, conducting background checks, onboarding, and providing some talent services like employee training and performance.
Employee termination:
If you need to terminate an employee, the PEO can help with this process, including outplacement services.
Performance management:
The PEO can assist with setting up and administering a performance management system.
HR consultancy:
On employee relations matters such as policies and investigations into discrimination or harassment claims.
How can a PEO help your business?
A Professional Employer Organization PEO can help your business in several ways. Here are the main ways in which working with them could help your business:
Leave you free to focus on your business priority
The more your business grows, the more involved your HR needs become. You need to hire additional people, and that means extra work.
Not only that, but although you might have the budget to recruit people directly responsible for driving innovation or sales, you might not have the budget to recruit an experienced HR team.
By working with a PEO, you get all the benefits of having an in-house HR department without having to recruit them yourselves.
Keeps your business compliant
Employee-related laws are complex and ever-changing, and it takes an experienced professional to stay on top of the regularly changing requirements of operating in line with the letter of the law.
By working with a Professional Employer Organization, you can feel safe knowing that you will be abiding by even the most recent changes in employer regulations without worrying about staying on top of those legislative changes yourself.
A better deal on employee benefits
Because Professional Employer Organizations are larger, you can take advantage of their economies of scale, which lets them negotiate better-priced benefits and insurance coverage. And that means you and your company get access to that better price.
Experience without the investment
Experienced HR professionals are an expensive investment but are something you can not afford to do without. 
By working with Professional Employer Organizations, your business gets access to top Human Resource talent and highly qualified legal professionals who can help mitigate any employment-related risks and give your business better people management than you'd otherwise be able to afford.
PEOs and other categories of HR outsourcing:
A PEO is one type of human resources outsourcing. PEOs are distinct from staffing firms by the Employer Services Assurance Corporation (ESAC), which provides companies with employees on a temporary or project basis.
PEOs are also different from human capital management (HCM) software providers, which offer tools to manage employee data and payroll but do not assume any employer responsibilities.
And finally, PEOs differ from employee leasing companies, which do not provide any HR services beyond assuming responsibility for payroll and benefits.