Workforce planning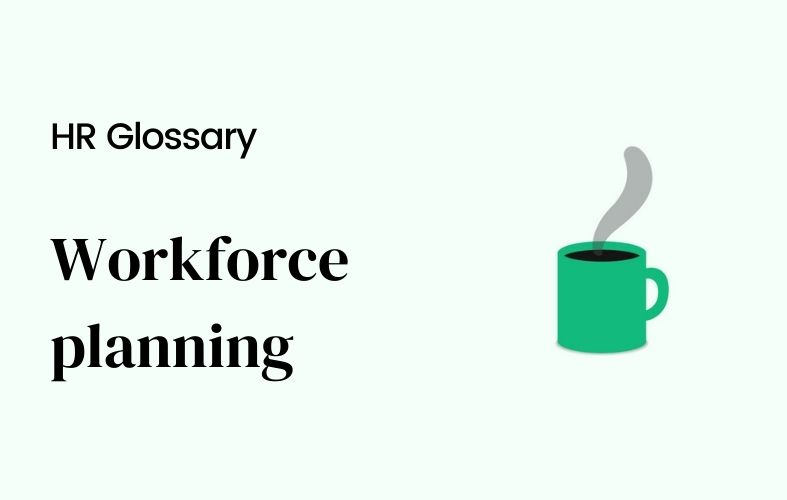 [Sommaire]
What is workforce planning?
Workforce planning is the process of allocating human capital to different tasks and functions in a business in order to meet strategic objectives. At its simplest, workforce planning focuses on making sure the right people are in the right jobs at the right time at a cost that is acceptable to the business. It can also be seen as a tool for managing talent and succession within an organization.
Every workforce planning process should align with the overall business strategy. It involves understanding the current and future human resources needs and then deciding how to bridge any gaps. Workforce planning should consider internal factors, such as the number and skills of employees, and external factors, such as the availability of labor and changes in the business environment.
What is the difference between workforce planning and people analytics?
Workforce planning is the process of allocating human capital to different tasks and functions in a business in order to meet strategic objectives.
People analytics is the application of data analytics to people-related data in order to improve workforce decisions and outcomes. Workforce planning is more strategic in nature, while people analytics can be used for tactical decision-making as well.
Who is in charge of workforce planning?
Workforce planning is a cross-functional activity and should be led by the executive team. The responsibility for planning workforce supply and demand typically resides with the Chief Human Resources Officer (CHRO) or the Director of Human Resources. However, other departments such as finance, marketing, and operations may also have a role to play in the process.
However, it will involve input from many different parts of the business, including HR, Operations, Marketing, and Finance.
Why is it useful for a business to do workforce planning?
Without workforce planning, a business risks being 'surprised' by future workforce shortages. This could result in employee and skills shortages in strategically important business areas.
By conducting thorough workforce planning, an organization can understand where potential headcount and skills gaps may appear and then take steps to address this.
Effective workforce planning can benefit a business in many ways, including:
Reduced labor costs
Improved responsiveness to changes in customer demand
Improved employee work-life balance, satisfaction, and retention
A more skilled, productive workforce.
How can business owners plan for their future workforce needs?
Workforce planning is an important part of the human resource strategy and helps leaders develop L&D (learning and development), succession planning, and recruitment. It can even feed into aspects such as reward and recognition.
In order to plan for their current and future workforce needs, businesses must take a structured approach to talent management. There is no single agreed method for a workforce plan, but the following broad stages will help business owners plan for their future workforce needs:
Analyse the existing workforce
By understanding the current workforce, an organization can then take steps to fill in any gaps. Important information to understand includes details such as:
Number of employees
Employee skill sets
Workforce demographics
The organization should also make scenario planning about attrition, such as upcoming retirements, promotions, and resignations. This will provide a broader picture of the workforce.
Analyse strategic requirements
The organization must also understand future needs and how these will impact the workforce. This includes understanding the business's goals and objectives and any changes that may be happening in the wider industry or marketplace.
For instance, launching into a new market segment will require different employee skills to open more stores.
As well as details such as product lines and competitive activity, the organization should also consider macro factors that may impact the business and the availability of employees.
Gap analysis
Once the organization understands its workforce's current and future state, it can begin to identify any gaps between what is needed and what is available. This process stage will require a detailed analysis of each business area and role.
With all information now in place, the organization can assess potential gaps in the workforce. These may not be simply in terms of headcount but may also cover factors such as salary expectations, skills, and location.
Solutions planning
With the gap analysis complete, the organization can now start to put activities in place to address the gaps.
A strategic workforce planning should be unique to each business but may include activities such as:
Training and development programs to upskill employees
Hiring plans to plug any headcount gaps
Employee retention strategies
Workforce flexibility initiatives
Changes in the working pattern
Relocation
Carrying out a workforce plan can help businesses stay agile and responsive to change while also ensuring they have the right skills in place to meet their strategic objectives.
This planning should be an ongoing process, revisited on a regular basis to ensure that it is still aligned with the business's needs.
How can Human Capital Management (HCM) systems help with workforce planning?
HCM systems can play an important role in workforce planning by helping organizations track and manage employee data
This data can be used to identify trends and patterns, which can then be fed into the workforce planning process.
For example, firms may use HCM systems to keep track of employee skills and assess training needs. This information can then be used to identify potential gaps in the workforce and put in place training programs to address these.
The use of HCM systems can also help organizations manage employee attrition by providing data on resignations, retirements, and promotions. This information can then be used to inform succession planning decisions.
The benefits of good workforce planning
Good workforce planning does more than help a business ensure it has enough staff in the right place. Done well, workforce planning can be a major contributor towards a happier, healthier workforce who are more engaged in their work.
Workforce planning can also help to:
Improve performance and productivity
By better understanding the skills that are needed within the workforce, businesses can invest in training and development programs to improve employee productivity.
Workforce planning can also help to identify any areas where there may be a skills shortage so that alternative solutions can be put in place.
This not only helps improve workforce productivity but also reduces costs through lower absences and improved retention.
Reduce labor costs
Workforce planning can be used to identify areas where the business may be overstaffed and make recommendations about how this could be addressed.
Strategic workforce planning can also help every organization avoid situations where they need to hire staff at short notice, which can often be an expensive process.
Improve employee engagement and retention
By involving employees in the workforce planning process, businesses can ensure that they understand how their role fits into the wider business and what is expected of them.
Workforce planning can also help to identify any areas where employees may feel disengaged with their work and put activities in place to address this.
Ensure compliance with employment legislation
Workforce planning can help businesses forecast future labor needs and ensure that they comply with employment legislation.
Workforce plan can also help businesses to avoid situations where they may need to make last-minute changes to their workforce, which can be costly and time-consuming.
Workforce planning is an essential tool for businesses of all sizes
By taking a strategic approach to workforce planning, businesses can ensure that they have the right mix of skills and experience in place to meet their strategic objectives.
Talent scenario planning can also help companies avoid potential labor shortages, improve employee productivity, and reduce labor costs.
What workforce planning looks like with HR software?
When workforce planning is done in conjunction with HR software, it can help to automate much of the process; This includes features such as:
Employee self-service so that employees can update their own details, view their pay history and request time off
Automatic alerts when employee roles change or when new hires are made
Reports that can help identify skills shortages and trends in the workforce
Employee onboarding processes that can be tailored to specific roles
Integration with payroll software so that HR data is updated in real-time.